Check Out These Additional Trends in Romance and Women's Fiction
Share YOUR Insight!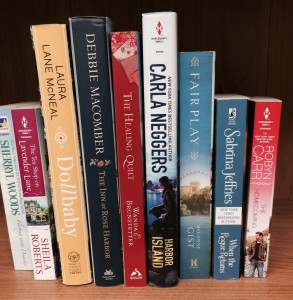 I promised you more input in trends in romance and women's fiction, which our astute industry expert friends shared in San Antonio during our annual VIP Dinners.
Here goes that insight!
Readers are enjoying reading serials, whereby a book is released and sold in segments—weekly, monthly or even quarterly—with the story resolution not coming until the final installment. Our client, Montlake author Colleen Callahan, was at the cutting edge of this trend with her 2013 serial novel, Warrior's Revenge. The gritty, fast-paced medieval romance came out in 10 weekly digital installments throughout the summer. After the last was released, Montlake published the novel in full in digital, print and audio formats.
Another NBPR client, New York Times bestselling author Wanda Brunstetter, one of the founders of Amish fiction, was also an early adopter of the serial publishing strategy. Last year Wanda found enthusiastic response to her Discovery series from Barbour Publishing. The six-book serial was published in trade paperback and digital formats.
Before the dawn of the 21st century, books set in the early 20th century experienced a difficult time finding readers. Now, our experts say, readers are enthusiastic about Victorian romances (notably books set outside England); and stories that take place in the Edwardian period, World War I, the 1920s and up to and including World War II.
Also on the rise: Gothics and, as one popular romance site owner noted, "anything with Highlander in the title."
Our third and final trends installment, coming next week, will provide additional insight into trends in contemporaries.
In the interest of credit is where credit's due, here are some of our industry VIPs responsible for providing publishing trends insight, with the rest to come in my third and upcoming trends installment:
Library Journal's Bette-Lee Fox, managing editor, and Kristen Ramsdell, romance column editor
Booklist reviewer John Charles
Writerspace owner Cissy Hartley
County of Los Angeles Public Library book buyer and blogger Wendy Crutcher
RWA 2014 Bookseller of the Year Edward Whitfill (Baltimore-area's Ukazoo Books)
RWA 2014 Librarian of the Year Seth Gilmartin (Colorado's Anythink Libraries)
Fresh Fiction events coordinator Gwen Reyes, who also does a book segment on Dallas ABC affiliate, WFAA-TV's Good Morning Texas
Daisy Maryles, editor of the BEA Daily and freelance journalist
Las Vegas library volunteer and reading group leader Linda Cutler-Smith, who, for many years, placed books in readers' hands as a bookseller.
Whether you're an author, editor, agent, bookseller, librarian, blogger, reviewer or reader, we'd love to hear your thoughts on what kind of books are capturing readers' attention. And is this a case of one exceptional novel, a trend in the making or both? Thanks in advance for your input!