Announcing the Winning Recipe in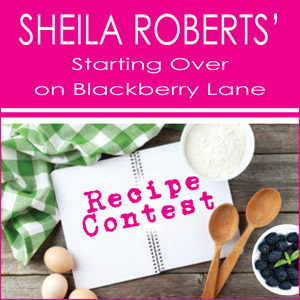 Congratulations to Karen LeMore, of Jacksonville, FL! Your set of Rachael Cookware and your signed copy of STARTING OVER ON BLACKBERRY LANE are on their way to you! And thanks to all of you readers who entered your yummy recipes in the contest! The four runners-up will each receive their signed copy of STARTING OVER ON BLACKBERRY LANE as soon as they confirm their postal mailing addresses. And since Karen heard about the contest from my monthly reader letter, the 10-book signed set promised to the referring site will not be awarded in this contest, but I'm tucking that away for a future contest prize, so stay tuned!
Karen's Easy Hashbrown Quiche
Submitted by Karen LeMore from Jacksonville, Florida
Ingredients
3 cups peeled and diced potatoes
1/2 cup chopped onion
1/2 tsp salt
3 eggs
3/4 cup milk
1 cup grated cheddar cheese
3 TBSP cooking oil
Optional: Diced ham or crumbled bacon

Directions
* Preheat oven to 400 degrees. Sauté onions and potatoes in oil. Pat evenly into a quiche dish or pie plate. Bake for 20 minutes. * Reduce oven to 375 degrees. Whisk eggs, milk, and salt in bowl. Spread ham and cheese over potatoes. Pour egg mixture on top. * Bake for 30 minutes.
Notes
Great dish for breakfast or for dinner!
---