Vote to Pick the Winning Recipe In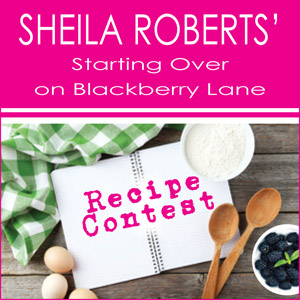 The five finalists, selected by a panel of judges, are listed below. At the bottom of each recipe is a "Vote" link to click if you select that particular recipe as your choice for the winner. You may vote only once. The deadline to vote is Monday, April 3, 2017 at 11:59 p.m.  The winning recipe will be announced on this page and on Facebook on Friday, April 7, 2017.
Almond Roca Cookies
Submitted by Jennifer Craig from Tacoma, WA
Ingredients
1 C. flour
½ C. brown sugar
1 C. margarine or butter
½ C. white sugar
1 egg yolk
¼ tsp. salt
7 oz. Hershey's chocolate bar
1 C chopped almonds

Directions
Preheat oven to 350º. Cream butter thoroughly. Mix with sugar and remaining ingredients. Spread over tin foil on cookie sheet 1 inch from all sides. Bake for 25 minutes. While baking, melt chocolate in double boiler. Spread on cookie batter. Sprinkle with chopped almonds. Let cool. Once chocolate has solidified, cut into 1" squares (or whatever size you want).
Kahlua Glazed Black Russian Boozy Cake (ingredient addition)
Submitted by Stacy Johnson from Winlock, WA
Ingredients
INGREDIENTS FOR THE CAKE:
1-3/4 Cup all-purpose flour
1/2 Cup cornstarch
1/3 Cup dry milk powder
6 Tbsp cocoa powder
Scant 1 Tbsp baking powder
1 tsp salt
2 Cups granulated sugar
1/4 Cup unsalted butter, softened
3/4 Cup plus 2 Tbsp canola or vegetable oil
3/4 Cup whole milk
1 Tbsp pure vanilla extract
4 large eggs, room temperature
1/4 Cup vodka
1/3 Cup Kahlua

FOR THE GLAZE:
3 Tbsp unsalted butter
2 Tbsp water
6 Tbsp granulated sugar
Pinch of salt
6 Tbsp Kahlua (up to 1/2 cup if you want a well-soaked cake)

Extras: Sifted powdered sugar for dusting, blackberries, raspberries and mint leaves for garnish when serving.

Directions
1. Preheat oven to 325 degrees F. 2. Grease a 10 to 15-cup Bundt pan or 6 mini loaf pans and dust with cocoa powder. 3. In a large bowl, sift together the flour, cornstarch, dry milk powder, cocoa powder, baking powder, salt, and white sugar. 4. Add the butter, oil, milk, and vanilla to the dry ingredients and beat with an electric mixer on medium until the batter is smooth and uniform. 5. Add the eggs, and continue beating until well incorporated (no more than 1 minute). 6. Add the vodka and Kahlua, then mix until evenly combined. 7. Pour batter into the prepared Bundt pan (or mini loaf pans) and bake for 50 to 60 minutes (less time for the loaf pans), or until a cake tester or toothpick inserted in the cake comes out clean. 8. Allow cake to cool in pan for 25 minutes, then invert onto a wire rack. Let cool for 30 more minutes. 9. While the cake cools, make the glaze: In a large saucepan combine the butter, water, granulated sugar, and salt. 10. Cook over medium heat until the butter completely melts and the sugar dissolves. Let reduce slightly, keeping an eye on it so it doesn't boil over. Remove from the heat and gently stir in the Kahlua. 11. While the syrup is still warm, poke holes across the bottom of the cake with a toothpick, fork, or chopsticks, and brush or pour the syrup evenly over the cake. Let soak for at least 4 hours (ideally, overnight), then invert the cake back onto a cake plate or serving platter. 12. Dust with sifted powdered sugar. 13. Serve with blackberries, raspberries and fresh mint leaves.
Notes
Can be made as cupcakes for individual servings, keep an eye on bake time since it will take less time to bake. Be sure to use quality Vodka and Kahlua - good flavors make a difference! Double the glaze recipe for extra goodness and a 'boozier' soak. After glazing, let sit overnight for best infusion of flavors – can be stored covered at room temperature for one week. To keep the bundt cake shape intact for soaking the glaze from the bottom (so it doesn't get flattened on top by being upside down on a plate, or upside down on a wire rack creating grooves), wash and dry the bundt pan while the cake cools - put the cake back into the bundt pan before poking holes in the bottom for soaking, leave in pan overnight for full soak, and invert onto cake plate or serving platter before dusting with powdered sugar.
Karen's Easy Hashbrown Quiche
Submitted by Karen LeMore from Jacksonville, Florida
Ingredients
3 cups peeled and diced potatoes
1/2 cup chopped onion
1/2 tsp salt
3 eggs
3/4 cup milk
1 cup grated cheddar cheese
3 TBSP cooking oil
Optional: Diced ham or crumbled bacon

Directions
* Preheat oven to 400 degrees. Sauté onions and potatoes in oil. Pat evenly into a quiche dish or pie plate. Bake for 20 minutes. * Reduce oven to 375 degrees. Whisk eggs, milk, and salt in bowl. Spread ham and cheese over potatoes. Pour egg mixture on top. * Bake for 30 minutes.
Notes
Great dish for breakfast or for dinner!
Family's Favorite Apple Torte
Submitted by Vicki Schwichtenberg from Henderson, Nevada
Ingredients
3/4 cup sugar
1 egg - beaten
1/2 cup butter
2 apples (grated)
1/2 teaspoon baking soda
1/2 teaspoon nutmeg
1 cup flour
1/3 teaspoon cinnamon
1/2 cup nuts (optional)
1/2 cup butter
1/4 cup sweet cream
1/2 cup brown sugar

Directions
Combine 3/4 cup sugar, 1/2 cup butter and the beaten egg. Mix together with the apples, soda, nutmeg, flour, cinnamon and optional nuts. Place in 8x8 pan. Bake at 375 degrees for 30 minutes. Topping: Heat 1/2 cup butter, 1/2 cup brown sugar and 1/4 cup sweet cream until smooth and lightly bubbling. Pour over torte. Especially good served warm with a scoop of ice cream on top.
Notes
This was my mom's recipe and a favorite of the family when I was growing up. We lived on a dairy farm in Wisconsin and had our own apple trees in the back yard. Mom used the fresh sweet cream from our Guernsey cows and the tasty apples from our Duchess apple tree when she made this. In 1979, my husband and I moved to Omak, Washington, and loved the fresh apples from the local orchards. I feel right at home when I read all the Icicle Falls books! A number of years ago my mom typed out all her "family" recipes and gave each one of us six daughters our own book.
Addictive Fudge Cupcakes and White Chocolate Ganache Centers
Submitted by Ashley Morris from Gig Harbor, WA
Ingredients
3/4 cup plus 2 Tb flour
1 cup sugar
1/2 cup plus 1/3 cup cocoa powder
3/4 tsp baking soda
Pinch salt
1 egg
1/2 cup buttermilk
3/4 cup unsalted butter
1 1/2 tsp vanilla
1/2 cup hot, strong coffee
6 oz white chocolate
1/2 cup heavy cream
2 cups powdered sugar
1/4 cup shortening
2 Tb milk
1 cup hot fudge topping

Directions
Preheat oven to 375 degrees and line a cupcake tin with paper liners. Whisk the flour, sugar, 1/2 cup cocoa powder, baking soda, and salt together. Set aside. Beat together the egg, buttermilk, 1/4 cup melted butter, and 1/2 tsp vanilla until thoroughly combined. Slowly pour in the dry ingredients until smooth. Pour in the hot coffee and mix until completely smooth (batter will be very runny). Divide among the cupcake liners no more than 2/3 full. Bake 20 to 25 minutes or until a toothpick comes out moist with a few crumbs. Tops should slightly spring back when touched. Allow them to cool about 10 minutes in the pans before transferring to finish cooling. Make the white chocolate ganache by combining the white chocolate and heavy cream in a microwavable bowl and slowly heat. Stir until completely smooth and partially cool. Pour into a squeeze bottle, and squeeze a generous amount of the ganache in the middle of each cooled cupcake. To make the hot fudge frosting, beat the 1/2 cup softened butter and shortening until smooth. Whisk together the 1/3 cup cocoa powder and powdered sugar together and add to the butter-shortening mixture. Add in the milk and 1 tsp vanilla, and mix until smooth. Add the hot fudge and mix until smooth. Add more milk if needed to create a spreadable consistency. Frost the cupcakes.
Notes
If using instant coffee, use 2 tsp of instant coffee dissolved in 1/2 cup hot water.
In voting for the Grand Prizewinning Recipe among the five finalists, readers may only vote once. In case of a tie in reader voting for the Grand Prizewinning Recipe, a duplicate prize will be awarded. Employees and/or family members of Sheila Roberts, Harlequin Enterprises, Nancy Berland Public Relations and the recipe judges are prohibited from voting for the winner.
---